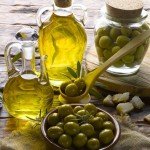 It is no surprise that olive oil has been at the foundation of one of this world's longest-existing cultures. Its health benefits are nearly unrivaled and now there is yet another good reason to incorporate extra virgin olive oil into your diet: reducing the risk of breast cancer. A recent study in Spain concludes that just four spoons of olive oil per day reduce the risk of suffering breast cancer by 66 percent.
That is exciting news in the war against cancer, where conventional medicine has been more focused on treatment instead of prevention, and the incidence of recurrence has been exhaustively high. There are many heart-healthy reasons to make olive oil a regular part of your daily diet. You can now add cancer-prevention to the list.
Discover how to protect your health against cancer and other diseases, naturally, with a subscription to the NaturalHealth365 INNER CIRCLE.  Over 200 globally recognized integrative medical doctors, oncologists and naturopaths provide their best advice on halting chronic disease, slowing down the aging process and promoting optimal health.  Click here to learn more.
Cutting cancer risk by two-thirds with extra virgin olive oil